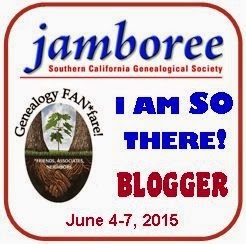 I hadn't actually considered attending the Southern California Genealogical Society's annual Jamboree this year. I was aware of it, but I hadn't focused on the content and I think I had a vague notion that the conference was related to southern California genealogy.
Then yesterday one of my readers, Kitty Cooper, a genetic genealogy expert who is a presenter at this year's Jamboree, asked if she'd see me there.  I checked out the Jamboree's website, saw all the great talks being offered at a really reasonable price, and decided to attend.
In addition to the three-day Jamboree, June 5 through 7, the SCGS is offering a one-day workshop on DNA on June 4. If you're a regular reader of my blog, you know that I've had my autosomal DNA test done, but I'm pretty clueless about the meaning of the results. So I jumped at the chance for this in-depth learning opportunity.
The conference was made more affordable for me when I contacted a friend who lives just 20 minutes away from the conference venue (the Los Angeles Marriott Burbank Airport) and she invited me to stay in her home.
There are many great offerings, but I'm particularly looking forward to hearing talks about Civil War ancestors, pre-1850 U.S. Censuses, mapping, Jewish genealogy (my husband is Jewish and I've been thinking of helping him look into his family history) and, of course, genetic genealogy.
If you're considering attending, registration is only $125 for SCGS members who register by April 30. I'll share with you that I found the online registration process a little baffling. The website doesn't make it abundantly clear what is included with the registration fee. I was helped by taking a look at the mail-in registration form, which outlined everything clearly. From there, I went ahead and joined online then, in a separate transaction, registered for the DNA day and the full weekend Jamboree. I also signed up for  the Saturday night banquet featuring Michael D. Lacopo, talking about his popular blog, Hoosier Daddy.
Thank you, Kitty, for suggesting it, I look forward to meeting you and hearing you speak at the DNA day!
If any other readers are planning to attend the Jamboree, please let me know. I'd love to meet you!