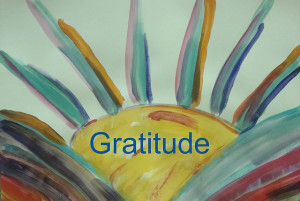 I love Thanksgiving. I think it's wonderful that we have a national holiday here in the U.S. dedicated to giving thanks for all those things we are fortunate to have in our lives.
On my organizing blog, I wrote a post about what I'm thankful for this year in my personal and organizing life. Here, I want to write about some of the things I'm grateful for in my genealogy life. The genealogy community is so rich and there is much to be thankful for.
Here's my genealogy gratitude list.
Civil War pension files. I am so grateful that I was able to order the pension files for my three Union soldier ancestors as well as my one Confederate soldier ancestor. (The latter came via Fold3.) And that I figured out how to process them.
My blog readers. I love the comments you leave and I'm so happy and grateful to have met some of you in person at the various conferences I've attended!
A famous cousin. I was tickled to death to go to a talk by big-name genealogist Josh Taylor and discover that we are cousins!
My 30 x 30 challenge. Making the commitment to spend 30 minutes a day on genealogy research for 30 days was a huge boost for me. I need to start another one. January 1 might be a good time!
Transpose.com. This web app has allowed me to create genealogy forms online that have made my genealogy life easier. I've also used it to create other forms for other aspects of my life. (Sadly, Transpose is shutting down December 9, 2016.)
Genealogy conferences. In 2015, I attended RootsTech, the National Genealogical Society conference, the SCGS Jamboree, and the Genealogy Society of Southern Illinois conference. I learned a lot from each and absolutely loved the connections I made. With a new puppy coming into my life in a couple of weeks (squee!) I think I may not be able to attend as many this year. But I look forward to going to at least one or two.
The growth of this blog. I'm on track to hit 100,000 pageviews in 2015, which will be twice what I had in 2014. (And five times as many pageviews as in 2013.) I am so grateful that so many people are interested in what I have to say!
I look forward to another year of genealogy research and exploration. I know that I will continue to have much to be grateful for.
What's on your genealogy gratitude list?
Illustration by Julie Jordan Scott via Flickr. Used under Creative Commons License.