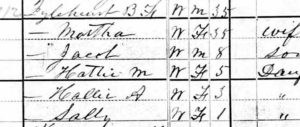 I was going crazy looking for my great great grandfather, Benjamin Franklin Igleheart, and his family on the 1880 census. None of my searches of various sites turned him up. I really wanted to find that census, because I knew from the 1900 census that his wife, Mattie, had given birth to 11 children, only three of whom were alive in 1900. I had found five of them, but I assumed that finding the 1880 census would reveal the names of more. (Mattie was 25 in 1870.)
So I decided I would browse my way through the census looking for the family. I had a good idea they were living in McLean county, Kentucky, where he lived before the Civil War. (He fought in that war.) I knew that in 1870 they lived in Arkansas, something I initially doubted but was confirmed in his Civil War pension record. But since they had a child born in 1881 in Kentucky, I felt comfortable trying Kentucky first.
I had found Ben's mother and stepfather in the 1880 census in Sacramento, McLean, Kentucky, so I started there. I browsed forward a page at a time, scanning the handwritten names. After a few pages, I decided to start looking the opposite direction, so I went back to his mother and started scanning a page at a time backward. Sure enough, just two pages behind his mother, there they were! The words "Igleheart, B.F." jumped right out at me. His age and his family members' names and ages matched up. Eureka!
So why didn't they show up on a search? A simple transcription error. The name had been indexed as "Lylehuist." When I look at it, I can see why. (I bet you can too, if you squint at the image above.) In Ancestry, where I found the document, I edited the record to add the name Igleheart in order to help others. I don't see that record coming up on a search of Igleheart, though.
The 1880 family included two children, born in the 1870s whose names I didn't have. They've now been added to my family-tree software. I still have four more children to find.
I have to say, it was really exciting to spot this family. I was in a college library among strangers, so I managed to keep from shouting out.  I did raise both arms in victory, though!