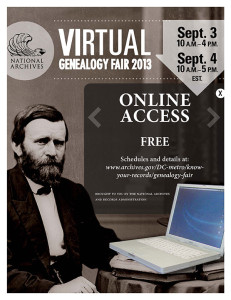 I am really excited about the virtual genealogy fair the National Archives is putting on next week, September 3 and 4. Anyone can not only view a variety of genealogy lectures, but also there will be a genealogy help line open during the afternoons of the fair where you can ask your own questions! Recordings of the sessions will be available afterward.
And there's no charge.
I so wish I didn't have a client appointment on September 4. However, I've blocked out the 3rd on my calendar.
Here are the bare bones details. Go to the Archives fair website for complete details, including links to handouts.
What: National Archives Virtual Genealogy Fair
When: September 3, 10 am to 4 pm eastern and September 4, 10 am to 5 pm eastern
How: View live broadcast via UStream (the webcast includes closed captioning and American Sign Language interpretation.) Questions will also be monitored on Twitter, hashtag #genfair2013
If you're interested in participating, I urge you to click on the above link and read the instructions for participating in the webcast. You'll need to create a UStream account if you don't already have one, and you might want to get your ducks in a row in advance, so you don't miss any of the fun.