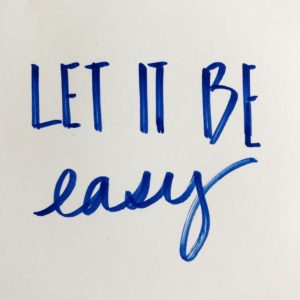 As I've posted here, I'm planning a research trip to Kentucky later this month. I'm bound and determined to get the most out of this trip by doing a great job of planning for it in advance. My father's paternal line lived in Kentucky for at least four generations so a lot of my people lived there, primarily in the 19th century (though some stayed there in the 20th century). I'm researching collateral lines, in addition to direct-line ancestors, so there are of things I can research there. What goes hand in hand with a lot of opportunities? Overwhelm.
Each day as part of my current 30 x 30 challenge, I've been working on planning the trip, but I've been a little scattered in my approach and it's getting a little frustrating because I'm not really making decisions. I'm searching for clarity. And I think I found it.
Yesterday, my co-host Shannon Wilkinson and I recorded Episode 54 of our podcast Getting to Good Enough. (We'll publish it on June 13.) The episode's theme was Let It Be Easy, which is my mantra, as I've shared on this blog. As we were talking about this topic, I realized that I haven't been letting this planning process be easy. Quite the opposite. Time for things to change.
So as soon as we finished recording, I pulled out some paper and started started brainstorming. I began with the all-important question, "Why do I want to take this trip?" Focusing on the answers to that question was so helpful. Four answers came to mind immediately and they gave my some instant clarity and direction. The answers were:
To learn as much as I can about my 2nd great grandfather, George Washington Adams (1845-1938) (I've been fairly intensively studying him since I received and transcribed his 137-document civil war pension file)
To solve mysteries
To flesh out my family tree
To expand my expertise
So now I'm focusing on identifying the blanks I can fill in for George Washington Adams, along with any information that could use more substantiation. I'm writing down mysteries, starting with those swirling around this second great grandfather (there are a few), and then I'll look at how I might make tree stronger, bushier, and/or taller. I'd like to do a lot of that this week because next week I want to focus on scheduling the trip and contacting repositories.
I literally think the words "let it be easy" to myself probably four times a week. But for some reason, I hadn't applied them to this trip. I'm feeling much better now that I have. I'll keep you posted on how that goes!