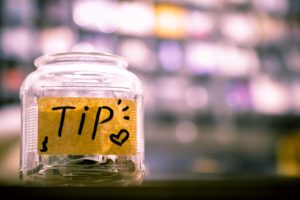 Here's the next in my occasional series of bite-size Quick Tips. Click on the Quick Tips tag for my other Quick Tips. Because I tend to write longer posts, I wanted to provide a quick-to-read (and quick-to-write) post every couple of weeks. This one is about your genealogy research, but it can certainly apply to other areas of your home!

Tidy up your research space before ending the session
If you use paper in your genealogy research, you probably opene file folders or binders during a session and you undoubtedly create some new paper by printing. If you take a few minutes at the end of the session to file those papers in their folders or binders and put them away in their homes, your future self will thank you. When you start your next session with a clear research space, it's easier to jump right in.
I don't use paper in my research, but I use the same principle with my digital research. I try hard to process any documents I download during the session. And I file in my folder structure as I go along. Keeping the genealogy folder on my hard drive tidy and organized makes everything easier.
I also try to clear my work desk at the end of every work day to make the next day easier, whether I'm doing genealogy research or working on my business. An uncluttered space contributes to an uncluttered mind!
Photo by Sam Dan Truong on Unsplash