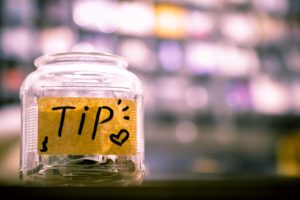 Here's the next in my occasional series of bite-size Quick Tips. You can see my other Quick Tips by clicking on the Quick Tips tag. Because I tend to write longer posts, I wanted to provide a quick-to-read (and quick-to-write) high-impact post every now and then. This one is about a habit that was a game changer for me!

Jot down your next actions at the end of every research session
I used to become overwhelmed at the beginning of every research session because I didn't know what I should work on. There were so many possibilities! That problem was solved by one simple habit. At the end of every session, I write down my next steps. So all I have to do is look at that note and get to work.
I write it in my super-simple research log, but it doesn't matter where you write down yours, just as long as you do it. I'd encourage you to be consistent in where you write it (and to avoid putting it on a sticky note or a piece of scrap paper that can get lost or create clutter). Stick with it for a little and it will become a habit.
Creating this habit has taken away a huge impediment to my research and I encourage you to give it a try!
Photo by Sam Dan Truong on Unsplash