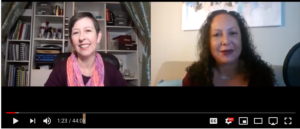 A couple of weeks ago I recorded a video podcast episode for Hoardganize, an organizing podcast hosted by Rachel Seavey of Collector Care. We focused on genealogy: getting started, as well as organizing results. I'm accustomed to audio podcasts, so I find it fairly tortuous to watch myself talk. I'm hopeful that it's less tortuous for you. That aside, I think we had a great discussion and there's some good info in there.
You can watch the video on YouTube or, if you prefer, listen to it on the Hoardganize website.
Here are some highlights:
Where to start: start with yourself and work up your tree (1:30)
Gather the basic info: birth, marriage, death, censuses
Track info in an Ancestry.com tree or download info and build a family tree using separate software
Research direct lines (9:00)
Move to collateral lines
Using Family Search (10:25)
Using libraries (15:06)
U.S. research versus other countries (16:11)
Organizing your documents (17:54)
My file naming protocol
Keeping track of what you're doing now and what you want to research in the future
I hope you find it helpful. If you do, please feel free to share!