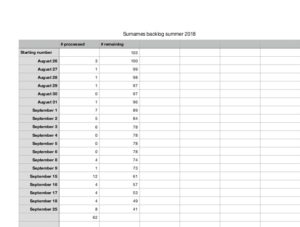 A month ago today, I wrote a post called searcher vs. researcher, in which I talked about how I'd accumulated a backlog of documents I'd downloaded but done nothing with. I vowed that until I had processed that backlog (using my digital workflow) I would not search for any new documents.
Then I had to amend that vow a little when I realized how difficult it was for me to completely stop searching. I decided that I would search on occasion, but I would process anything I downloaded so that I wouldn't add to the backlog
Since I started this process, I've been diligent about chipping away at my backlog, I'm happy to report. In my informal Evernote research log, I note which documents I processed and the day's contribution to the backlog reduction.
I even created a simple spreadsheet (of course) that I store in Evernote and update after each session. That little burst of accomplishment keeps me going. Today's spreadsheet is pictured above; you can click on it to make it bigger if you're interested.
As of today, September 25, I have processed 62 of the 103 documents in my backlog. I have just 41 to go and am looking forward to the great feeling of finishing. All along, I've been making follow up notes (in Evernote), so I'll have plenty of searching to do when I finish. I'm going to try hard not to let a backlog build up again!