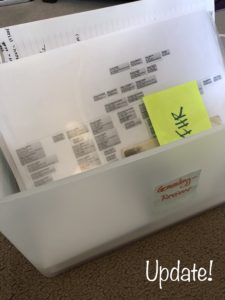 At the end of last month, I confessed how I'd found a stash of unfiled genealogy-related documents and vowed to go through them for 30 minutes a day until they were gone. I also had a rather large library of genealogy journals I want to at least skim.
In the comments of that post, a number of you said you'd join me in this paper-busting challenge. I thought I'd write a post today to let you know how it's going for me and ask how it's going for you.
Overall, for me, I'd say the challenge has been very worthwhile. I went out of town on the 15th, but before that I did manage to go through paper every day, though some days it was for as little as 15 minutes. I managed to resist going down rabbit holes or chasing bright, shiny objects that appeared while I did this. I kept my eye on the prize.
The best part is that I've kept very little paper. Much of my time has been spent making sure that I either already had downloaded the documents I had on paper (particularly those from the fat envelope sent to me by the Alabama Archives) or looking for and downloading easier-to-read copies of those documents.
So I scanned a few papers but I recycled the vast majority of them. I'm almost finished with the loose paper, but I still have all those journals to go through. I'm fairly confident I can finish by the end of the month.
I'm here to tell you, this feels great. And I'm so glad that most of the time I don't have to deal with much genealogy paper. As I mentioned in a post last week, this project has been making me appreciate my digital lifestyle!