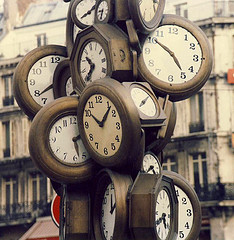 I had a wonderful research trip last month and I really enjoyed being immersed in my genealogy research. But I don't think I've done any family history research since then! That is a crying shame.
It's not a bad problem to have:  I'm so busy with paying work (helping clients get organized) that I'm having trouble finding time to do genealogy research. But it's also not acceptable. If I want to do this research (and I do), I need to make it a priority.
I know I've felt this way at times before, so I perused the articles from this blog tagged time management. And I was inspired. I noticed a shift in how things are going for me. My lack of research these days is truly due to lack of time, not lack of direction or feelings of overwhelm as it used to be. So that's progress. (The end result–no research getting done– is the same, unfortunately.) My quarterly plan really gives me direction, which is so beneficial to how I feel about doing research.
But as I wrote in this article, it really is about priority management, not time management. I'm fortunate in that I have control over my schedule, both work and personal, since I don't have kids and my husband makes few demands on my time. So I could, in theory anyway, reserve a day of the week for genealogy research. It might mean delaying (or possibly even losing) billable hours. Or it might mean prioritizing my desires over my clients' (which feels really weird).
The bottom line is this (at least right now): If I don't make doing my family history research a priority, time to do it is not going to materialize. I need to schedule it, not wait for free blocks of time. And, if necessary, I need to sneak it into available pockets of time.
In March 2013, I created a genealogy time-management plan. Looking back, it might have been overly ambitious and I admit it fell by the wayside. So now, I think if I simply block off  four hours a week where I focus on actual family history research (not writing this blog, not reading other people's blogs), I will make progress. That sounds completely doable.
Maybe in June I'll be able to schedule a little genealogy staycation of a few days' duration. That sounds really wonderful.
How about you? How do you find the time to do your family history research?
Photo by nicksarebi via Flickr.