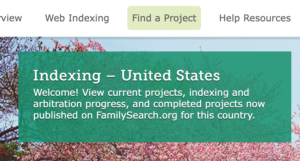 When the self-isolation around the COVID-19 crisis started, I jotted down some things I might do to occupy my time. I was inspired at RootsTech to volunteer to index once again for Family Search (I hadn't done it since the 2017 Worldwide Indexing Event) so I added indexing to my list. This past week, I gave it a try.
Family Search makes it so easy to volunteer to index. I logged in, selected Indexing from the top menu bar, then Find a Project. I focused on the United States (there are plenty of opportunities in other countries as well), then selected "US, Michigan–Naturalization Records, 1837-1933." I did a thorough reading of the instructions and indexed a batch. I only did it for a short while that day, but I plan to go back to it this weekend.
If you're getting a little tired of your own research, this might be a nice change of pace. As someone who has benefited from the volunteer indexing efforts of others, it feels nice to contribute. And here's a bonus: Indexing might make you a better researcher!