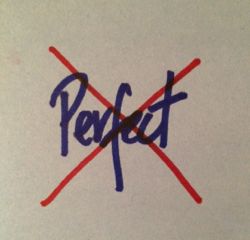 When you think about getting organized there's a natural tendency to want to found the very best possible organizing system, whether it's for your genealogy or any other aspect of your life. Trouble is, as I've seen many times in my work as a professional organizer, that tendency toward perfection generally paralyzes people.
If you're a perfectionist, it can be really hard to start organizing something if you don't know how it's going to work out. Or if you're not sure what the best course of action is.
My advice: let go of perfection and embrace simplicity. If you select or create the simplest organizing system possible–the one with the fewest steps–you'll have the best chance for success.
For me and my family history research that means I now save most things electronically, rather than printing and filing. I find it much easier to file documents on my hard drive than in a physical file folder. (And, yes, I do back up that hard drive.)
When I do use paper, I prefer file folders to binders because I think they're simpler to use. (Way fewer steps.)
My mantra is Let it be easy, and I try to inhabit that phrase in all aspects of my life, including my organizing systems.
If you find yourself hesitating to create an organizing system or use the one you have because you're looking for the perfect system, I encourage you to let that go. The longer you wait to organize, the bigger the project will be. Don't let perfect get in the way of done.