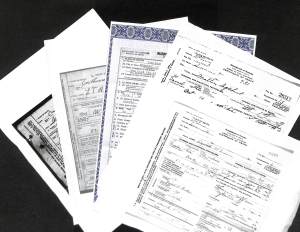 In my role as a professional organizer, I often help people deal with an overabundance of items. Our work together allows my clients let go excess and organize those meaningful things they decide to keep. It's very rewarding work and it's led me to believe fervently that one's life is easier when you streamline your possessions to those you use and love.
I've learned that when I have too much of an item–even something great–it becomes much less meaningful. Years ago I noticed that if I had a Costco-sized package of Oreos I wouldn't eat any of them. But if I bought a small package of a treat, I'd enjoy a few at a time until they were gone.
What does this have to with genealogy research? Well, believe it or not at the moment I feel like I have an overabundance of death certificates and they're stressing me out a bit. My September research trip resulted in my putting my hands on a few death certificates. Those led me to others and right now I'm looking at a small pile of five death certificates. All of them came my way as paper copies, so I need to scan them and file them electronically, in addition to filing the actual pieces of paper. I think I've gleaned all the information off them and put them into Reunion, but I want to take another pass at them to make sure I'm not missing anything.
If I had just one death certificate, I'd get the task taken care of lickety split. But since I have five, I'm feeling a little overwhelmed and dragging my heels a little. Crazy, isn't it? Overabundance can lead to paralysis.
I love finding death certificates. I'm fortunate that I have Missouri ancestors and here in Missouri it's incredibly easy to download death certificates. Yet here I find myself not appreciating my bounty just because I have too much.
The solution? Like any big project, I need to do a little at a time. I could break the project down into steps (scanning, for instance) and do that step for all the certificates, then move on to the next one. Or I could just process each certificate separately. Or I could stop overthinking this and just do something. (In order to get the photo for this post I needed to take my death certificates to my ScanSnap SV600 contactless scanner, so I went ahead and scanned all of them. At least I've done something!)
All this speaks to the benefit of handling my genealogy findings as soon as they come in. If I let tasks pile up, they turn into chores instead of treats.