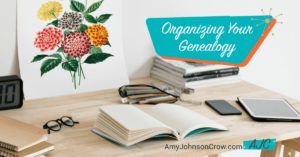 Do you listen to Amy Johnson Crow's excellent podcast Generations Cafe? If you have read my blog for awhile, you know I'm a big fan of Amy's. (Here's her How They Do It interview on this blog from 2017.) She started her podcast in September and I've really enjoyed listening to it. So when she asked me to be a guest, to talk about genealogy organizing, I jumped at the chance!
The episode was published on Wednesday and I am really happy with how it turned out. If you haven't already (I know Amy has a HUGE audience, so you may already be aware of it), please check it out by clicking on this link or subscribing to Generations Cafe wherever you listen to podcasts.
Thank you, Amy, for the opportunity to talk with you and your listeners!