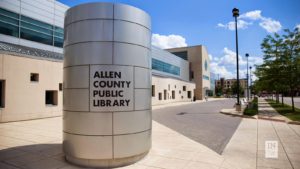 I just returned from my four-and-a-half days of genealogy research at the Allen County Public Library. (I went there on a National Genealogical Society research trip.) I'd been eagerly anticipating the trip and it didn't disappoint.
Without a doubt, I made progress on my genealogy research. Some of that progress I can quantify:
I added 56 people to my family tree.
I added 28 sources to my family tree software.
I broke into a new generation three separate times.
I nailed down at least four maiden names of ancestors.
I found the identities of a bunch of children who passed away between censuses.
I didn't have any huge breakthroughs, but I did have lots of little ones.
Beyond tangible progress, there were some other less tangible benefits to my getting out of the house and committing a week to library research. I'm a big proponent of snatching little pockets of time to do genealogy research, but having four full days of research without the distractions of everyday life was really wonderful. It made me feel closer to my ancestors. And it allowed me to scratch some itches, if you will. When I wondered about something, I was able to explore it. I did try hard, however, to stay focused on my Adams line, along with the Indiana portions of my Jeffries line.
Since I was at a really great library with a huge number of printed resources (as well as electronic ones), I wanted to make good use of my time there. I tried to identify in advance the items to explore that I couldn't find elsewhere. One thing I came to realize, though, was that it was okay for me to use Ancestry or Family Search while I was at the library, even though I have access to those at home. The point was to make progress and take advantage of my dedicated genealogy time. I didn't want to ignore a robust resource just because I could use it at home. So I found myself finding indexes in books that I would then use to more easily find digital versions of primary sources online.
Having two terrific genealogists, Pam Eagleson and Pat Stamm, available to us for consultation was great. They provided terrific ideas for furthering research when I was stuck. They also gave me confidence that was on the right track, which is always appreciated. As a bonus, they offered an optional lecture each day.
I'm eager to go back to the Allen County Public Library and when I do, I'll probably focus on a different line. Staying at the Courtyard by Marriott just a couple of blocks from the library and near plenty of good restaurants makes it really easy. Next time I go, I know how easy it will be to get right back in the swing of things. I'll miss my NGS buddies, though!