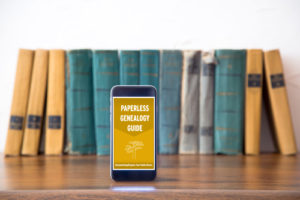 Have you been thinking about going paperless with your genealogy? I made that transition about six years ago and have never looked back. In 2015, I wrote a post called 8 reasons not to print that pretty well spells out my reasoning behind embracing digital organizing.
Making that transition is the kind of thing that you might be putting off, thinking you'll need time to think it through and come up with and implement a plan. Most of us are not working at this time of COVID-19, so now might be a good time to start the process. And here's a great (if I say so myself) resource to help you get started: The Paperless Genealogy Guide, a  40-plus-page downloadable pdf that I wrote in 2017 with scanning expert Brooks Duncan of DocumentSnap. We wrote the guide as we were working on the Going Digital talk we gave together at RootsTech that year.
One thing I want to make clear as you're pondering going transitioning to digital: You don't have to scan your existing paper files all at once. Just figure out what your digital workflow will be (here's mine) and think about your digital file naming convention and computer folder structure. Once you know those things, you can just start with next document you find online. Rather than print it, just do this: rename it, process it and then file it digitally. You can then work on the backlog a file folder (or half hour) at a time until it's done. But the key is not to add to the backlog. From this point forward process all incoming documents digitally.
So that it's handy, I'll share with you my file-naming protocol and folder structure. They've been working well for me for years but of course you might have or come up with something that works better for you.
My file-naming protocol:
Year Document Type-Ancestor Name-Locality of document
Example: 1938 death certificate-George Washington Adams-Indianapolis Indiana
My folder structure:
Genealogy/Surnames/[Surname]/Last Name, First Name, YOB-YOD
Example: Genealogy/Surnames/Adams/Adams, George Washington, 1845-1938
I have a folder for each individual. For married women, I file them under their married name (if there's more than one, I use the one pertains to me) and put their birth name in parentheses.
Example of wife: Genealogy/Surnames/Adams/Adams (McEuen), Henrietta, 1847-1902
This is the kind of information that's covered in The Paperless Genealogy, along with a lot more. The guide also includes information on selecting a scanner, keeping your data safe, and what you do (and don't) need to get started. It also includes our Paperless Genealogy Checklist to walk you through the steps you need to take. The Paperless Genealogy is $9 and available instantly. Read more about it and purchase it at the DocumentSnap website.