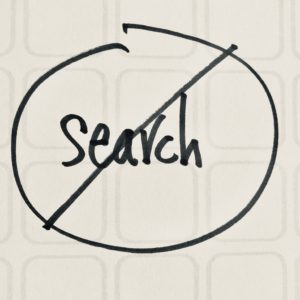 Just over a week ago, in my post called Searcher vs. researcher, I vowed to get through the backlog of documents I had downloaded but never processed and to do no online searching until the backlog was gone. I'll confess to you that my resolve not to search dissolved the very first day.
My curiosity about certain things that came up while I was processing my backlogged documents could not be satisfied by merely jotting down a note on my follow-up task list. So I quickly amended the vow I'd made to myself. Now, I try not to do any searching and downloading but when I do, I process the new document during the session in which I download it.
This is working out well. I have managed to resist the temptation to search but every now and then I go for it. (For example, when I'm processing a Washington state marriage certificate and I know that Washington marriage license applications, which have more interesting information, are also easily found.)
Today, in processing an 1880 census, a grandchild appeared living with his widowed grandmother and I need to verify whose parent that grandchild is before I can add the grandchild to my genealogy software and consider the census document processed. That's going to require a little searching online tomorrow and I'm okay with that.
So far, this backlog-busting project is going well. I've reduced my backlog by 25 documents in the last ten days and have 78 documents in my backlog remaining. It's feeling good!