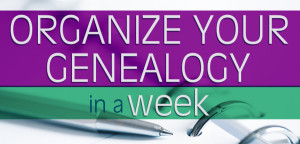 If you're reading this blog, I know you're interested in organizing your genealogy research. That's why I wanted to let you know about an online course I just signed up for: Organize Your Genealogy in a Week, from Family Tree University. It's being taught January 24 to 31 by Denise Levenick, The Family Curator. I'm a big fan of Denise's blog and her book, How to Archive Family Keepsakes.
As a professional organizer and genealogy enthusiast, I have lots of ideas about how to organize genealogy research. But I'm very excited to learn what Denise has to teach and I'm sure I'll pick up great ideas. Plus I'm sure I'll benefit from the questions course participants ask Denise.
The workshop tuition is $129.99. It takes the form of six 30- to 60-minute videos and two written lessons, to watch/read at your leisure, along with expert advice from Denise in the message boards.
If you plan to attend as well, let me know in the comments!