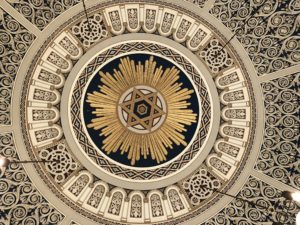 I've lived in my house here in St. Louis since 1992. (Four of those years we rented out the house and lived in Brooklyn, New York.) When we moved in, I did a little research about my house, which was built in 1908, at city hall, where I the building permit. And when the 1940 census was released, I did some census research on the house, which I talked about in this 2013 post.
On Saturday, I attended a workshop at the Missouri Historical Society's library on doing house history research. It was a great experience. The library itself–which I had never visited–is absolutely beautiful. The building was once a synagogue and it has lovely interior with an incredible domed ceiling. (That's a picture of the interior of the dome at the top of this post.)
The Missouri Historical Society has put a lot of work into its house history resources page, with many resources spelled out. Some are available in the library, some are available online, and some are at other facilities, like St. Louis City Hall.
Associate Archivist Dennis Northcott took us through all these resources at the workshop. He even went to the trouble to find samples for each resource using the addresses the workshop attendees were researching.
After the workshop I came home and started to work on researching my house. I started by looking at the census research I'd already done. (It was so long ago that I hadn't saved the images digitally.) I thought about how I wanted to organize the information, particularly since a traditional family tree wouldn't be applicable.
I decided to use my latest favorite app, Trello, to keep track of the research. I made a House History board, with a list for library lookups and a list for each of the addresses I'm researching. As I spelled out in my previous post about researching my house, mine is one of four two-family houses in a row built by a man for his four daughters. So I'm interested in all four houses plus I'm interested in the houses the daughters lived in prior to and after living in mine. I'm also interested in the other owners and tenants of my home and, to a lesser extent, the occupants of the other three homes of the quartet.
Here's a picture of my Trello House History board as it stands today: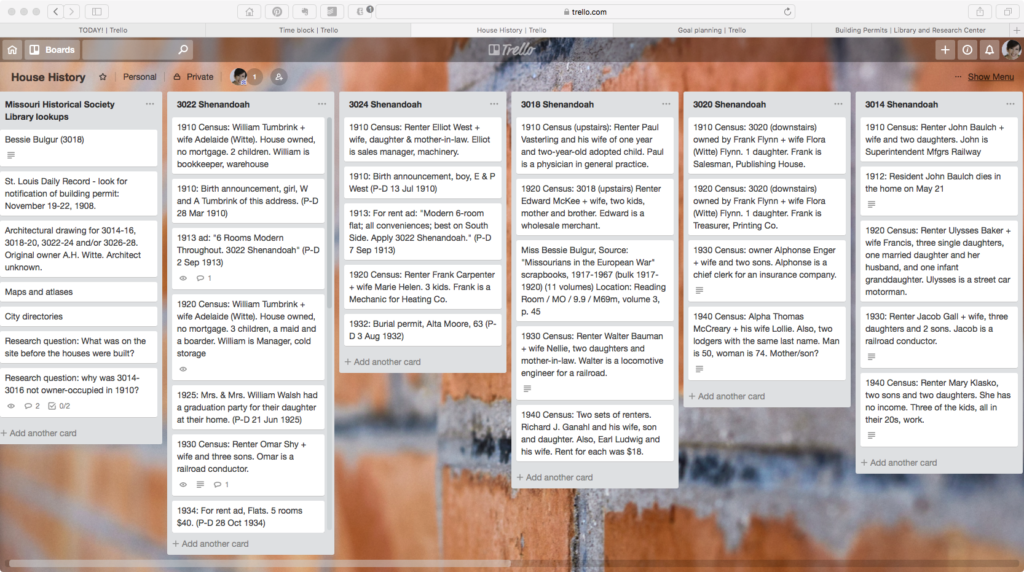 The other thing I did at the outset was to create an Evernote checklist of the resources spelled out on the Missouri Historical Society website.
So far, in addition to census research, I've done newspaper research. Next up will probably be city directories as well. Tomorrow, I'm going to go to the Missouri Historical Society Library to do some research with a friend who has an interest in the history of his beautiful old home. I don't want my house history research to distract me too much from my genealogy research, but it sure is fun!