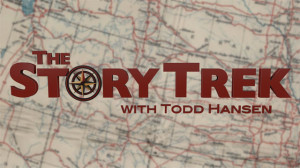 I have to admit I'd never heard of the television show The Story Trek before I attended the RootsTech conference. The host of the show, Todd Hansen, was one of the keynote speakers and he inspired us with the message that everyone  (and he means everyone) has an interesting story to tell.
On The Story Trek, Hansen goes door to door with a small television crew in a randomly selected city and neighborhood and asks whoever answers the door to tell his or her story for the television camera. Hansen is clearly gifted at extracting stories from people and the show is riveting. We saw excerpts during his enjoyable keynote (which you can watch here; it starts at the five-minute mark). That led me to locate full episodes of the show online. You can watch them on the BYUtv website or download the BYUtv app.
Two thumbs up from me. Enjoy!