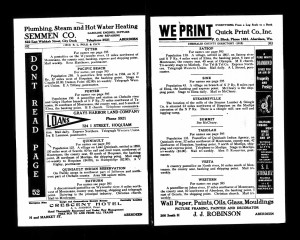 This quarter, I'm exploring the Adams family–those ancestors from my paternal grandfather's line. I've been fortunate recently to find my great grandparents heavily represented in city directories in the 1910s and 1920s. I've also found my grandparents and even my parents in city directories via Ancestry.com.
An individual's entry in a city directory can provide some great information (depending on the year), including:
Address
Spouse
Occupation
Value of personal property
Tracking an ancestor's address from year to year can be really revealing.
I was thrilled to see in the 1912 Chehalis County Directory paragraphs about each of the towns in the county. About Quiniault (now spelled Quinault), which is the town that my grandfather and his parents were living in that year, I learned this:
Population: 125. A village on Lake Quiniault, settled in 1890, 150 miles west of Seattle, 60 by rail and mail route, northwest of Montessano, the county seat. 40 north of Hoquiam, the banking point, 28 northwest of Moclips, the shipping point. Mail stage tri-weekly to Hoquiam ($4.00), to Humptulips ($2.00). A.V. Higley, postmaster.
That paints a picture of a very remote place, doesn't it? Quinault is located on the Olympic Peninsula in Washington state. The occupation of my great grandfather, Elmer, was listed as farmer. I can't really imagine what life was like there in that small town, so far from everything, with four small children.
One thing I've come to realize about city directories, however, is that offer a snapshot that may look very different than reality. For example, I know from my grandfather's letter to my grandmother that his parents did not live together in Olympia.  You would not know it from the Olympia city directory, where both Elmer and Hattie are listed at one address year after year. Similarly, my parents are listed in the Spokane city directory in 1954. I know that in fact they were stationed in London at the time. (My father was in the Army.) So as much as I love finding an entry in a city directory for one of my people, I'm learning to not take the information as gospel.