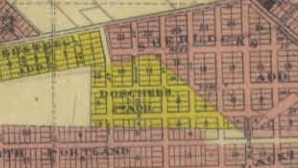 I'm in Portland, Oregon, doing some business planning my friend and colleague, Shannon Wilkinson. (This is something I try to do annually, and it really pays off.)
As I discovered earlier this year, my paternal grandfather, Dave Adams, was born in Portland. The birth announcement I found for him listed a street address for his parents, 749 Roosevelt Street. So I thought while I was here I might see if I could find the home his parents were living in when he was born on November 12, 1904.
Last night, after dark and in the fog, Shannon and I found ourselves near Roosevelt Street. (I had told her about it on the phone when I first found the birth announcement, and she remembered.) As it happens, due to the addition of freeways and an industrial plant in that area, only one residential block of Roosevelt street remains. So it was easy to narrow down our search.
However, some time in the 1930s, Portland changed its numbering scheme for its addresses. The block we were in was the 2200 block. My quest today was to find out whether the last existing residential block of Roosevelt happened to be the same block my great grandparents lived in.
Thankfully, Shannon is savvy about online resources available in Portland and she pointed me to Portland Maps, a city-run website that provides loads of information on each property in Portland. I had written down the address of one of the houses, so I looked it up.  I was able to click on historical permits on that house and the houses around it until I found a permit old enough to reveal the original address. I learned that 2354 Roosevelt was 780 Roosevelt back in the day. I clicked on the next house west and saw that it had been 782 Roosevelt, so I knew I was going in the wrong direction. Unfortunately, there were only a couple of houses east of 2354 Roosevelt, so it became apparent that my great grandparents' house was one that was destroyed in order to make room for the freeway.
A look at the plat map of Portland in 1906 showed that the whole area had been residential. Shannon and I agree that the turn-of-the-century houses we saw in the last remaining block of Roosevelt probably are a good representation of where the Adams family had lived.
While I was ultimately disappointed in the outcome of this fun little research project, I'm thrilled to have a feel for the kind of housing my ancestors lived in 110 years ago. I'm so grateful to have this information available to me at my fingertips but also glad that I saw those houses in person.
Incidentally, I used the Research Tracker in my Family History Organizer notebook in Springpad (available to you by clicking here) to track this project. I'm finding it a really easy way to keep track of my research without feeling overwhelmed by a big spreadsheet.