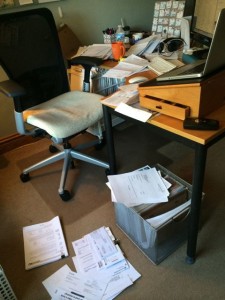 Is your genealogy work surface clear? If not, do you have to clear if off before you start researching? I think a messy desk can make it hard to do your best work.
I'm a big believer in clearing off my (physical) desk top every night. That way I can hit the ground running in the morning. I do my genealogy work at same desk where I blog and run my organizing business. If I didn't keep a clear desktop, I think I'd find next to impossible to even contemplate doing genealogy work.
This point was brought home emphatically this morning. I'm a little embarrassed to admit it, but as of last night I had not finished my family's taxes. I started them a month or two ago, but when it became apparent that I was going to have to pay additional taxes, I kept procrastinating on finishing them. I thought I'd finished them Sunday night and was just planning to print out the return and write checks yesterday (April 14). But when I went through the Review process on Turbo Tax, errors came up that had me pulling out my hair. After a few hours of trying to deal with it through online resources and a call to a tax-lawyer friend, I decided to throw in the towel and file for an extension. About then, my husband let me know that dinner was ready, so I just left my desk to go eat. And I didn't come back that night.
So this morning, I was greeted by a messy desk top. And I had to fill out the forms to file for extensions for federal, state and local taxes and figure out how much to pay with each extension request. I also had figure out what to pay in estimated taxes. And I had to write the checks. This kind of thing stresses me out under the best of circumstances. But with my messy desk (pictured above), I could feel my blood pressure rising.
I have to leave to see a client in 90 minutes, but I'm happy to say that despite the messy desk, I got the tax forms filled out and checks written. (I'll come back to my Turbo Tax problems in a couple of days and hope to get my return filed soon.) I also wrote my monthly newsletter and two blog posts this morning. But I could have done all that with less stress if I hadn't been surrounded by paper. And I felt so busy I didn't take the time to clear it.
If your workspace is typically cluttered, I encourage you to take a little time to clean it off and then establish a habit of clearing it nightly. It's one of three habits that really help keep me at the top of my game. It might help you get more genealogy research done!