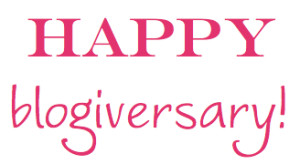 I published my first post on Organize Your Family History four years ago today, on June 14, 2012. This is my 282nd post. I can't believe how quickly time flies!
I love writing this blog. It helps keep my genealogy research top of mind.  I learn so much researching the posts. But I think what I love most of all is interacting with my readers. Your comments are so educational and so appreciated!! And I'm grateful to have met some of you in person.
The readership of the blog grew very quickly in the first few years but growth has slowed down as the blog matures. That doesn't surprise me–I can't expect that kind of growth forever. I was delighted to surpass 100,000 pageviews last year and I certainly hope to do that again this year, though I'd better start blogging more frequently if I'm going to accomplish that. (It's been a year of competing priorities.)
At the risk of boring you, but for the sake of continuity, I'll spout some statistics here about the blog, as I've done for each blogiversary post. I find it interesting and it's helpful for me to be able to look back.
In the fourth year of Organize Your Family History there were (as compared with last year):
60 posts (72 last year)
94, 172 pageviews (84, 270 last year)
451 comments, about half of which were from me (compared with 245 last year)
344 subscribers (272 last year)
If you're interested in data from the previous two years, check out my 3d blogiversary post.
I have so loved meeting readers at genealogy conferences and look forward to meeting more at the Midwestern Roots Family History and Genealogy Conference in Indianapolis next month (please let me know, if you haven't already, if you're going to be there and you'd like to meet up!).
On this, my fourth blogiversary, I just want to say thank you for reading the blog. It's such a joy to know you're reading!