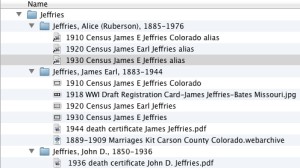 I just realized I'm gradually going paperless when it comes to my genealogy research. It's been almost a year and a half since I wrote the post To print or not to print?  in January 2013. Back then, I was working hard to resist the temptation to print source documents for my files.
Well you know what? That temptation is completely gone. In fact, I've been going in the opposite direction as I slowly work on marrying my paper and electronic files. I'm in the process of making sure that all the documents in my paper files are properly named and filed on my hard drive. Most of these documents were originally found online, so it's easy for me to find them in electronic form and save them to my hard drive. But if I don't have an electronic version, it's easy enough to scan the paper version.
I've found several advantages to going paperless:
My electronic files are at my fingertips; I don't have to walk to the file cabinet
My electronic files are much more portable–they're on my computer or accessible on mobile devices or remote computers via Dropbox
My electronic files take up much less space
My physical desktop is less cluttered during a research session
Typically, I can zoom in and magnify electronic files, so reading them is much easier on my eyes
I save paper and toner, of course
This feels like a really big shift and it happened so gradually that I didn't even realize it! I think a key component was coming up with an electronic file system that works for me. That gives me confidence that I will find information on my hard drive. (I'm still working on properly filing all the electronic documents that might have been misfiled before I set up that electronic file system.)
How about you? Are you paper or electronic? Or perhaps both?