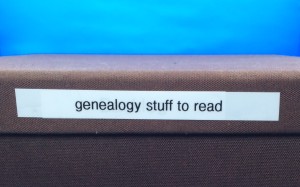 I suspect that most genealogy enthusiasts prefer doing research to organizing the results. A large part of the fun (for me, anyway) is playing detective and making discoveries. That's thrilling. But if we don't process our finds, what good do they do us?
I was thinking about that today as I thought about whether to do some genealogy research or spend the time working on organizing my research. I feel I've been so out of touch with my research (still blaming my puppy, Bix, and my long work hours) that I don't even know where I stand with anything. That makes me feel a bit paralyzed.
I could jump right back into the research and maybe have some fun, but I think I'd be better off taking stock of where things stand organization-wise. And for me that means:
Looking over my genealogy to-do list
Looking at my progress tracker and updating it if necessary
Looking on my hard drive for electronic files related to the Adams family (this quarter's family) and filing them
Pulling out my backlog box marked "genealogy stuff to read" that I didn't even remember I had and going through the contents. I just peeked in it and it contains documents picked up at genealogy conferences in 2015. I suspect I'll be able to pretty swiftly dispatch a lot of it. If not, I'll add items to my genealogy task list (like I described in my blog post, Banishing the stubborn pile).
Updating my task list with the tasks that will inevitably result from this activity.
That's a pretty long list, but it shouldn't take too long. And, I remind myself, I don't have to do all of it. Any effort here will be beneficial. Once I have a better handle on what I'm doing and what steps I need to do to improve my organization, I'll have a clearer head. And I'll have more direction when it comes to doing actual research. Something tells me it will be much easier to get started researching then!
Photo above taken by me using the SHOTBOX tabletop photo light studio.