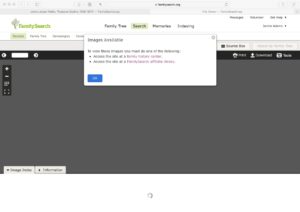 Last weekend I went to the St. Louis County Library's genealogy room to access some documents I'd found on Family Search that were only available for viewing from the Family History Library or an affiliate library. I had stored links to these documents in Evernote until I had a few lookups to do.
When I got there and logged on to the library's wifi, I was disappointed to get the same message I'd received at home (pictured above). I consulted with the librarian, who was able to access the first document on her computer. She didn't know why I couldn't access it on mine, but suggested I use the library's computers. I did that, but I would have much preferred being on my own laptop, since the documents I was trying to access were hyperlinked on my computer. (I didn't think of accessing my Evernote account on the library's computer.) I also would have much preferred to download the documents directly to my computer, rather than onto a flash drive. And I didn't enjoy fumbling around with Windows when I'm used to a Mac.
When I got home, I realized I'd not properly captured the source information. So back I went to the library three days later.
I had the same problem accessing the documents and I asked a different librarian for help. He made a brilliant suggestion:
Try another browser.
I don't know why I hadn't thought of it. I like to use Safari on my Mac, but Safari sometimes doesn't play well with others. When I tried to access the document on Chrome, there it was.
So if you're in a library where you should be able to access a Family Search document and can't, just try another browser.
Edited to add: According to some comments I received on Facebook, this browsing-switching phenomenon as it relates to Family Search might be specific to the St. Louis County Library. So your mileage may vary.