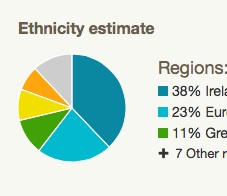 Last spring I blogged that I wanted to do a genealogy DNA test but was overwhelmed by the options. In July, I reminded myself that done is better than perfect and I took advantage of a sale that Ancestry DNA was having and sent for an autosomal DNA kit.
I got the results back in August, and was tickled to see my ethnicity breakdown. I've never felt a kinship with any particular nationality, but I was very interested to see that my primary ethnicity is Ireland (38%). That didn't come as much of a surprise since the first immigrant ancestor I've confirmed so far in my research was from Ireland. After Ireland, the breakdown is West Europe (23%), followed by  Great Britain (11%), Scandinavia (9%) and Finland/Northwest Russia (7%). Before this, when asked my ethnicity I would have guessed Great Britain.
I saw a few DNA matches on Ancestry DNA, but beyond reaching out to one match, I haven't done much with it. Recently, I decided to upload my Ancestry DNA results to Family Tree DNA. For a small fee, my matches were displayed. They presented me with some 900 matches, ranging from 1st to 3rd cousin all the way to remote cousin. I just reached out to the closest match.
At this point, I'm feeling a little overwhelmed and wondering "now what?" I was contacted by a cousin and asked to join a surname project, which I did. I uploaded my GEDCOM to Family Tree DNA. But I'm not sure what, if anything, I should do next. When I start to read about genetic genealogy, something in my brain rebels. (I'm more of a social science than a hard science person.)
My inclination is to sit tight and wait for people to contact me. But I'd love to hear any suggestions from you about more active ways to benefit from my DNA test. Thanks in advance!