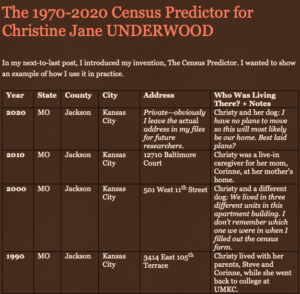 Just three more years until the 1950 census is released to the public! I bet you're as excited about it as I am. But do you know where your family members lived in 1950? In the mid-twentieth century, people started moving around more, rather than living around extended family for decades on end. I suspect that will make census research a little more difficult for genealogists. (Here's an article from the Oxford Encyclpedia of American Social History on 20th-century internal migration, if you're interested.)
OYFH reader Christy Underwood, who writes the blog Shaking My Family Tree, gave thought to how future genealogists might find her and her family in the more recent censuses. She created a Census Predictor form, which she has filled out for her family members who were alive since 1950. She's posting them on her blog as a roadmap for researchers who follow her.
She explains the concept here, but the idea is that she creates a table in Word for each family member, with rows for each census year, providing the state, county, city and address of the person at the time. She also includes a cell for notes.
Here's Christy's post with her Census Predictor for herself. (That's a snippet at the top of this post.)
I think this is genius. Wouldn't it be great if we all did it? I'm planning to give it a try as soon as I finish my current paper-purging project (which is coming along quite nicely).
Are you game for creating census predictors for your family? Are you already doing something similar? I'd love to hear about it!
Christy, thank you for inventing the Census Predictor and sharing it with the world on your blog. And thank you for giving me the green light to write about it here!