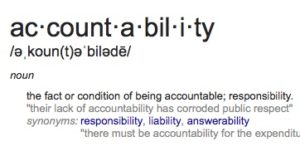 Earlier this week, I blogged about how I'm trying to create a research log habit in 2017. A couple of commenters mentioned that they, too, would like to create a habit of logging their research every session and have found it difficult in the past. One of the commenters, Barbara Schmidt, suggested that perhaps a peer support group would be helpful. I think she might be onto something.
I know first-hand that accountability can be very powerful for creating habits. So I'd love to offer a simple way for readers of Organize Your Family History who are so inclined to get that accountability for creating a research log habit.
Here are a few options. Could you let me know in the comments if you're interested in participating and, if so, which format you'd prefer? I'll probably go with the one that gets more votes (unless it's trumped by an option that is easier and more sustainable for me). If you have an idea not mentioned here, please let me know.
A monthly accountability blog post from me in which people can check in via the comments all month
A weekly post on the Organize Your Family History Facebook page in which folks check in
A closed Facebook group where people post when they've used their research log. That could also be a place where people bounce around ideas for research log formats.
I pair you up with one other person with whom you can become accountability partners and communicate privately
Another option I haven't thought of but you have
If this appeals to you, please comment on this post and let me know what option would work best for you (or if you have a better idea). In the next week or two, I'll set something up. Unless, of course, no one is interested.