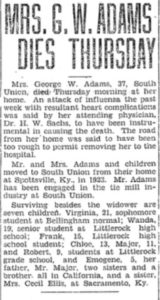 Just under a month ago, I wrote a post called Using newspapers to fill in the blanks in which I was very enthusiastic about newspapers and the discoveries they might contain. I still am.
A week before that, I wrote a post called Those Eureka! moments, in which I described finding a newspaper article that confirmed that a family I'd been researching was indeed related to me.
Newspaper research can be so fun and rewarding. But here's a friendly reminder: Just because it's in the newspaper doesn't make it true.
Case in point: The article I described in the Eureka post did indeed provide the link I needed, which I have verified. But it also had a wrong cause of death for Mrs. G. W. Adams (Elizabeth Major Adams, 1889-1929). The article says she died of "an attack of influenza…with resulting heart complications." Her death certificate, by contrast, says she died in childbirth. And cemetery records listing a single grave with "Elizabeth and Baby Adams" substantiate that information.
Why the newspaper said she died of influenza, I don't know. But it's a reminder that double checking facts in newspaper articles (or at least taking those facts with a grain of salt) is a good idea.