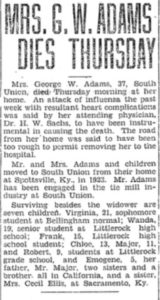 I just had one of those moments where I raised both arms in the air and whooped. I think I startled my standard poodle, Bix.
I've been trying for the five research sessions to ascertain whether a couple I had found was my couple. I had downloaded seven documents for a George Washington Adams born in 1882 (this is the son of the George Washington Adams whose Civil War pension file I transcribed this year). He had a wife, Elizabeth Major Adams, who passed away from influenza in 1929, leaving behind seven children. Before processing these documents, I wanted to be certain that this G.W. Adams was my G.W. Adams.
A year ago, I would have accepted that he was the right person, perhaps overlooking the fact I didn't have any definitive proof. The Genealogical Proof Standard requires reasonably exhaustive research and kept bearing that in mind as I kept researching until I found a definitive connection.
I'm keeping a research log in Evernote, so I can see everything I've done on this search and at the end of each session, I've jotted down next steps. I've had to keep my sessions short, so these next steps have been really helpful–and there have always been plenty of them.
One of the challenges is that on his World War I draft registration card, George, who at the time was married to Elizabeth (Betha), listed his birth date as September 19, 1883, rather than 1882 as his father had listed in a pension document. The World War II draft registration I found for George, married to Estle, listed his birth Sepember 19, 1881. Both documents show him with brown eyes and brown hair. (Brown eyes are uncommon in my family, I've noticed.)
I hadn't focused on Estle until today. My Eureka moment came when I found George and Estle on the 1940 census, living with children the same names and ages as those listed as survivors in the news article about Elizabeth's death. That's when I whooped and hollered. I also found Estle in the burial plot next to George and two spots away from Elizabeth.
I am so glad I pursued this until I felt I'd made a real connection. If I'd gone ahead with the assumption that George and Elizabeth were the right couple I might have had lingering doubts. And I know that would have driven me crazy. Also, there's nothing like the thrill of those Eureka moments!