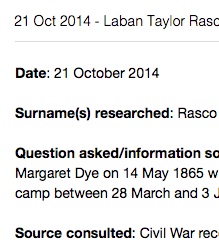 Have you ever been pursuing leads on a thorny research problem and found the time just slipping away, without much progress made? I just experienced that. I was trying to fill in some blanks on an ancestor and actually managed to stay pretty focused, but two hours later, those blanks are still empty. I wouldn't mind keeping going on this challenge, but I need to stop, because I have other things I need to accomplish this morning. Plus, I'm getting kind of frustrated.
It's easy to spend a lot of time pursuing leads in genealogy research and feel like you've wasted your time. But I think there's a sure-fire way to make the time spent more valuable. And that's by recording what you've done and the results–even if the results are nil.
That's where a research log comes in. I've not been diligent in keeping a research log, though I know that it can be very valuable. But my frustrating time this morning has me appreciating the effort of keeping a log, because I don't want to repeat the unsuccessful searches (or if I do, I want to do so knowing that the searches have failed in the past).
When Springpad was around, I created a research tracker template that was included in the Family History Organizer notebook on Springpad. That form works with the way I think, so I've been continuing to use the template, only now it's in Evernote. (Feel free to email me if you want me to send you the template–that's the corner of today's entry in the photo.) It's simple and allows me to record the pertinent data without turning it into a big chore. I need to use it more diligently, after every research session, rather than waiting until days like today when logging my research feels absolutely imperative.
My way of keeping a research log is far from perfect. There are much more complete ways to do it–Thomas MacEntee offers an amazing research log template, it just doesn't feel right for me. (I find it a little intimidating.)
If you've been contemplating keeping a research log, but got bogged down in trying to select the best format or you just weren't sure how to do it, I'd suggest you let go of making it perfect (or even great) and just get into the habit of writing something down. Any information about your research session that you document at the end of the session is better than none!