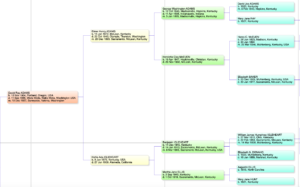 When I first dipped my toe into genealogy research around 20 years ago, I went online and found Family Search and Ancestry. I subscribed to Ancestry, printed out some five-generation pedigree charts and started writing down what I found, by hand. I collected names and dates and quickly went back many generations. I still remember what a thrill it was.
I made many mistakes back then. The biggest was probably that I didn't write down a single source. The second biggest was that I didn't apply a critical eye to anything. I didn't check any sources, let alone create source citations. I just wrote down the information as I found it.
Of course, before long I started finding information that contradicted what I'd written in my pedigree charts. And, because I lacked sources, I couldn't verify anything. I came to the realization that I couldn't trust my tree. And that's when I became overwhelmed and threw in the towel.
Fast forward to 2011 when I decided to try again. This time I realized that my handwritten pedigree charts were useful only as clues. I downloaded some genealogy software (I chose Reunion) and started with myself as the base of my tree. And I slowly started to grow my tree. I made two vows to myself:
No person would be added to the tree unless I had a strong evidence they belonged there.
Only facts supported by sources would be added to the tree.
As a result, my research is much slower paced than it was back in that first attempt. And it's also much more satisfying. I love that everything on my tree is based on a source. And if I do find contradictory information I can easily compare the sources and come up with a conclusion.
For me, being able to trust my research, as it's displayed on my tree, is everything. Do you trust your tree? Or do you have some weak branches?
If you can't trust your tree or you don't know if it's trustworthy, you can do a couple of things to try to remedy that.
You could do a genealogy do-over. Thomas MacEntee over at Abundant Genealogy started a popular Genealogy Do Over program a few years back. He outlines his 12 steps for a Genealogy Do-Over at www.genealogydoover.com. He also offers a workbook for a do-over on that site.
You could go through your tree and make sure that every fact there is supported by a source. If it isn't, you have research question to solve! I would suggest marking the unsourced "facts" somehow so that it's easy for you to add sources (and then remove the mark). Be sure and keep track of the facts you need to verify.
You could check all your sources to make sure they're cited sufficiently and that you've picked all the meat off the bones. I started doing systematically going through my source documents that in 2016 (but stalled out). And then in 2018, I started going back through my source documents to make sure that I had collected all the information I could from each source. That process is ongoing.
I went from having a wildly inaccurate family tree to one that I feel confident about. That's made all the difference in how I feel about my hobby.