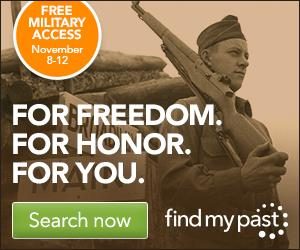 Tomorrow is Veteran's Day and Find My Past is making it easier to dig deeper into your ancestors' military service. The website is offering free access to their military databases through November 12.
This offer seems particularly helpful if you have ancestors from Great Britain. Find My Past's military databases include British Army Service Records, Prisoners of War, 1715-1945; British Royal Navy and Royal Marines Service and Pension Records; Napoleonic War Records; British Army Casualty Lists, 1939-1945; WWI Ships Lost at Sea, 1914-1919. The databases aren't limited to the UK, though. I did a quick search when I was writing this post on an ancestor who lived in the United States and was able to quickly find his 1903 Army enlistment record.
To get started, search for an ancestor at the Military Access Page. When you click on a search result, it will ask you to sign up for a free account. During this free promotion period, you'll be able to access (and download or print) the documents you find.
If you're not sure what wars your ancestors might have fought in, check out this Family Search Wiki page on Ages of Serviceman in Wars. Also check out this blog post I wrote about creating a spreadsheet to help you identify your military ancestors easily.