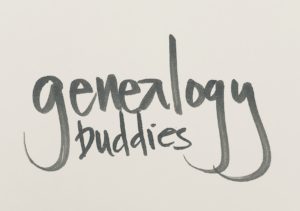 Last month, I had a genealogy play date. My friend Vickie Sheridan, whom I met through this blog, and I met at the History and Genealogy department at the St. Louis County Library headquarters. The library has great resources. But that's not the only reason we met. There are many benefits of having a genealogy friend to research with–even if you share no common research interests. These benefits include:
Setting aside time for research. By putting a six-hour (including lunch) genealogy date on my calendar, I elevated genealogy research on my priority list that day. In a month where I got precious little research done, this day was a stand out.
Getting out of the house. I appreciate an excuse to go to the genealogy library, rather than researching online at home. I have more resources available to me at the library (including access to documents on Family Search that I can't access at home). Having a dates gets me away from my desk.
Keeping me focused on my research. When I'm researching quietly beside a friend who's also researching, I tend to stay focused, rather than let my mind (or feet) wander.
Having someone to brainstorm with. It's so nice to be able to pick Vickie's brain (or vice versa). We've been genealogy buddies for five years now, so we're a bit familiar with one another's research. We try not to interrupt each other's research, but when we do have questions, it's really helpful.
Our mutual interest in genealogy. Some (most?) of my friends outside the genealogy world really don't want to hear about my little genealogy victories. But Vickie does!
Having company. Genealogy can be such a solitary pursuit. It's really nice working on my own research in the company of someone else. Vickie is also my genealogy conference buddy. We've attended more than ten conferences together–we even drove to Indianapolis together this summer to attend Midwestern Roots. It's great to have someone to hang out with at conferences.
If you have local friends or family who are also genealogy enthusiasts, I encourage you to get out to a library or cemetery or conference or other genealogy site together. Genealogy buddies are real treasures!