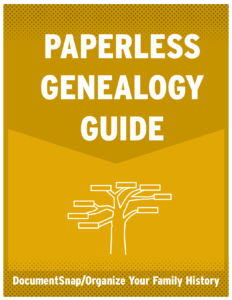 I've partnered with "Mr. Paperless," Brooks Duncan of DocumentSnap, to create a guide to going paperless in your genealogy research. I think it will be really helpful for those who would like to go paperless but feel overwhelmed by the prospect.
Brooks and I are presenting a session at RootsTech today (Go Paperless: Streamline and Digitize Your Genealogy) and we worked on the presentation and the guide at the same time.
You can read all the details about the Paperless Genealogy Guide over at DocumentSnap and download it for $9 there.  The guide covers how to name and find your digital documents, along with different types of scanners, and strategies for protecting your precious documents. And it ends with a checklist to walk you through the actions you need to get going.
My genealogy life is much easier now that almost all of my documents are in digital form. I can carry all my research with me, find it easily, read it easily (no more magnifying glass!) and determine very easily what I have and don't have for a particular ancestor.
If that sounds good to you, hop on over and check out the Paperless Genealogy Guide! It can be yours instantly for $9.